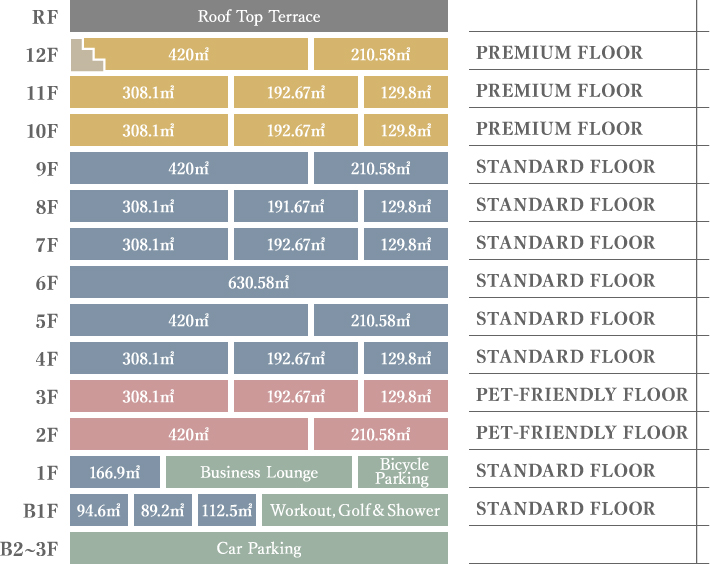 Spec fit-out offices for immediate use as high-grade office space
In contrast to conventional leased office spaces, spec fit-out offices are leased out as fully furnished offices for which the landlord sets up meeting rooms and installs desks, chairs, and other fixtures. Tenants benefit by being able to significantly reduce the time for relocation and the costs of interior finishing work. At the Frontier Grand Nishi-Shinjuku, the high-grade offices feature stylish interior designs and facilities imbued with an upscale touch made available for occupancy in the shortest time possible.
Office types
Premium spec fit-out office
Standard spec fit-out office
Pet-friendly spec fit-out office
Shared facilities
Meeting room with a capacity of 16 or more persons
Business lounge
Café space
Workout area
Golf studio
Shower space
Rooftop terrace (for Premium Floor tenants only)
First floor bicycle parking (card security system)
Pet feet-washing space
Underground parking with 32 spaces (self-propelled, directly connected to the building, can accommodate larger vehicles)
OFFICE SPACE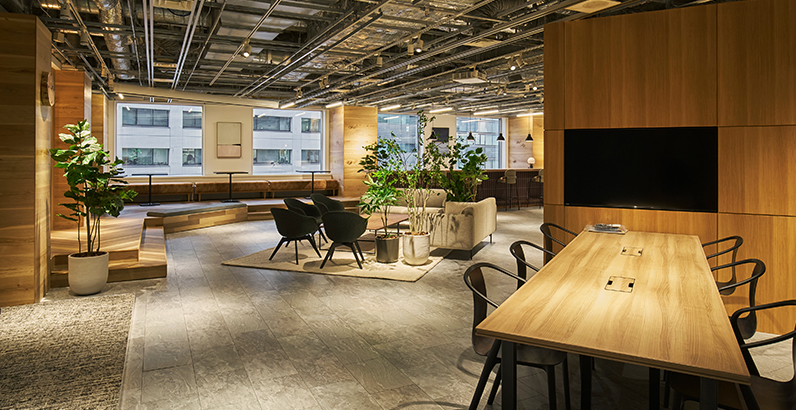 STANDARD FLOOR
The interior is built of natural materials to evoke a sense of unity and serenity. Adopting a layout that is conducive to communications and using lowered partitions allows users to establish eye contact and communicate with others while remaining seated. An exposed ceiling dispels any atmosphere of indoor oppressiveness to help produce a stress-free workspace.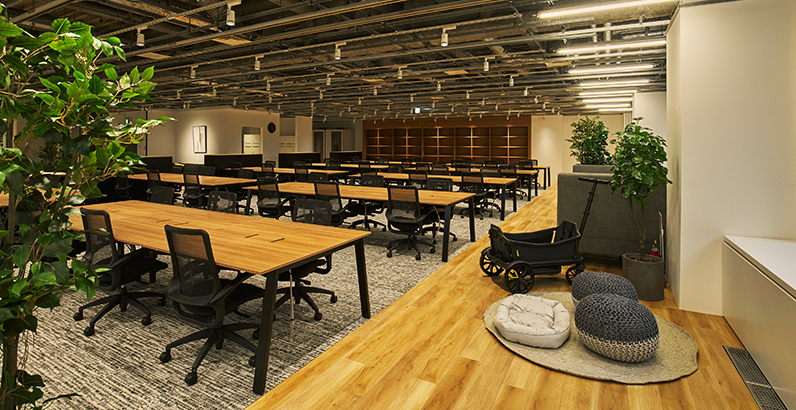 PET-FRIENDLY FLOOR
Frontier Grand Nishi-Shinjuku is rare in Japan with having pet-friendly floor, the office space on the designated floor allows users to spend time with their pets. This concept has been adopted by many companies in the United States and elsewhere and has been confirmed to confer many benefits, including stress relief and improved communications within the office. To create a setting that is more comfortable for pets as well, we put down non-slip flooring materials that are decidedly pet-friendly.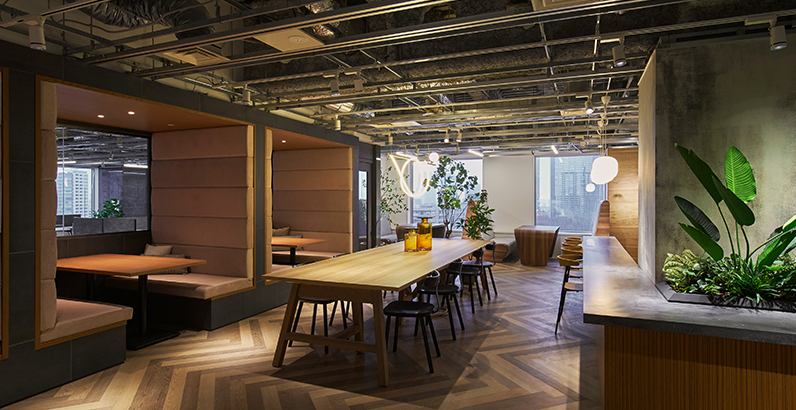 PREMIUM FLOOR
We created floors that exude status by proactively employing upscale materials and furnishings. We sought to create a hotel-like space and eliminate the boundaries between living and working as much as possible. The results can be seen in the premium spec fit-out offices in which we fully pursued a high-quality setting possible.
COMMON SPACE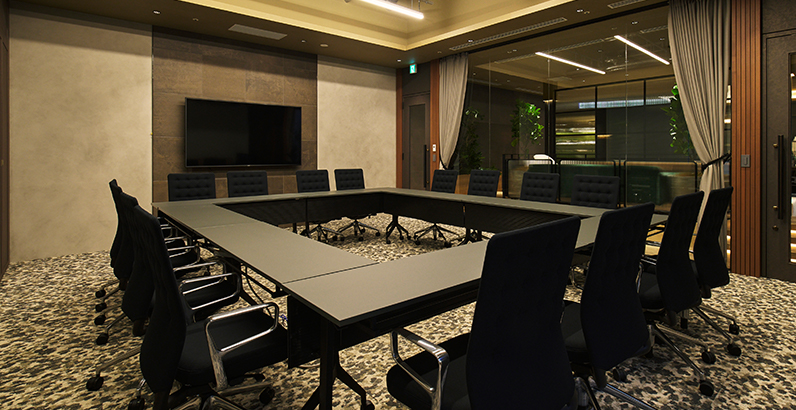 Meeting room
The glass panels on the wall allow natural light to stream into the Meeting room. Adopting an open-space design enhances the functionality of meetings and creates opportunities for spontaneous communications. The ability to convey the atmosphere inside the rooms to the outside encourages participants to think about how meetings should be held in a way that reflects the image of one's company.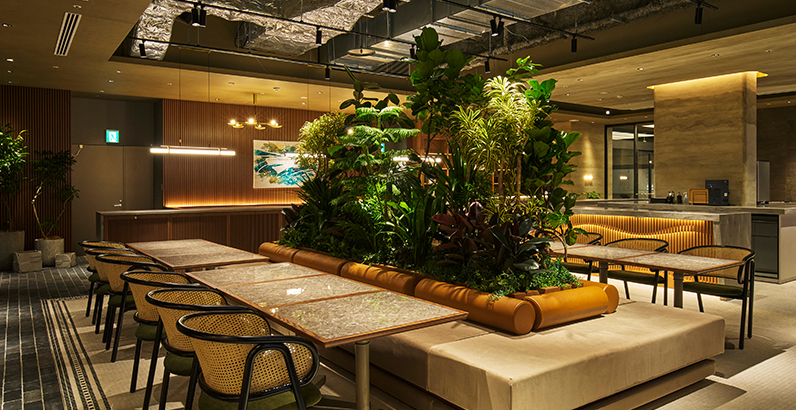 Business lounge
The business lounge best exemplifies the concept of the building as a whole, which is brimming with elements derived from nature, including sunlight filtering through the foliage like that seen behind the rocks in a forest, cave-like paint on the ceilings, wood-patterned counters, and stone tiles. The space is serene and allows people to go from interacting with others to focusing on the task at hand. The creation of a third place resembling a café also promotes new ways of working.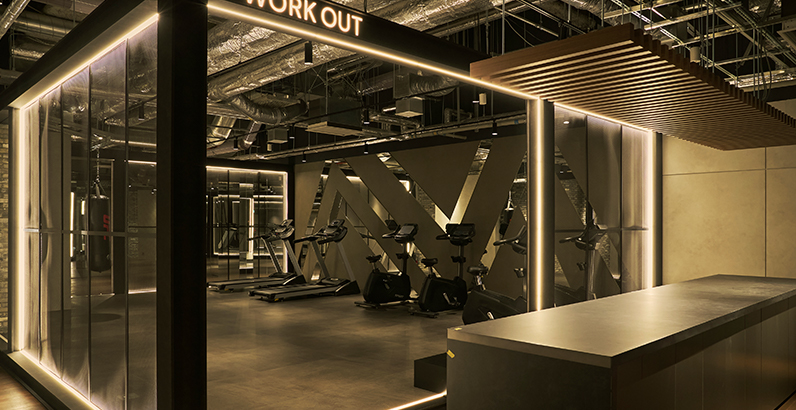 Workout area
A gym has been spec fit-out in the building for casual use by those who find it hard to find time to exercise. An industrial design has been implemented from floor to ceiling for a street feel that facilitates the incorporation of exercise into the daily routine. This gym can also be used for sponsored events, yoga sessions, and more to make this an ideal place for social interaction.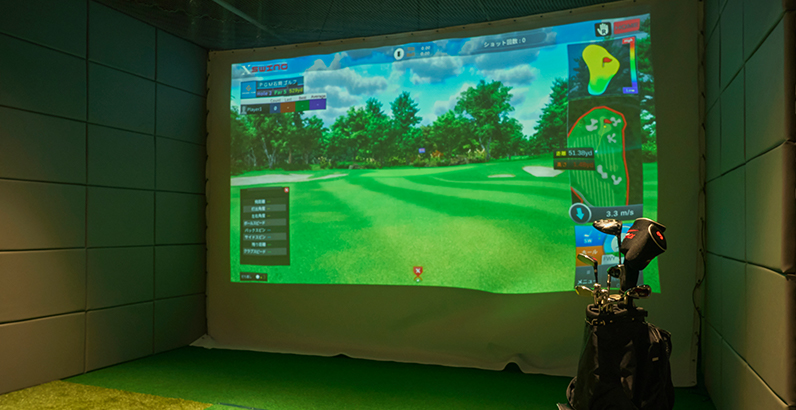 Golf studio
A golf simulator is available for those wishing to take up the sport or to practice on a regular basis. The appeal of this option is the ability to use it without having to wonder whether there is an opening, unlike the experience you are liable to have with any of the busy Shinjuku-area driving ranges. Given that golf can also create opportunities to communicate, this golf studio provides an environment for working in a better atmosphere.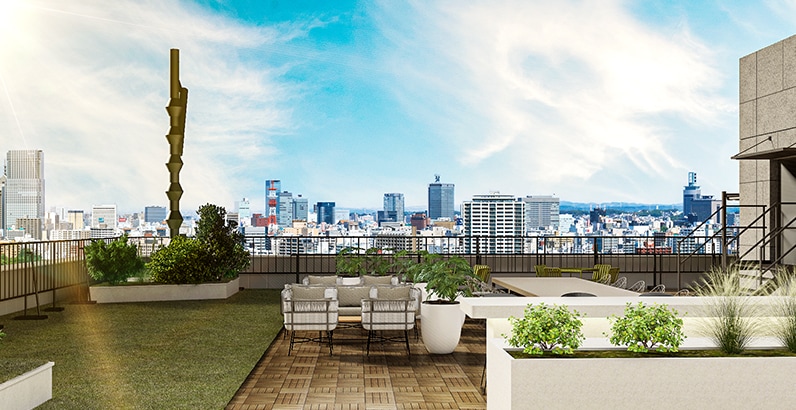 Rooftop terrace
The rooftop terrace can only be used by Premium Floor tenants as a location that affords a fantastic bird's-eye view of Shinjuku Chuo Park. The layout of the terrace has been designed for a variety of different purposes, including meetings and breaks. This space is imbued with a special atmosphere where the fresh outdoor air can be savored.
Inquiries
03-5909-3357
Management company: Reqree Inc.